"Stop living for reason;
Time to start living for rhyme."
---
Though we aim at polished productions, our priority is skill development and quality of experience for cast members and for families. We're both a venue for kids who seek to advance their skills and for those who want to try out the stage. We like to spread roles by double casting when it can be done within our schedule without compromising the show. The ideal is to hear from everyone on the stage. Everyone gets to sing, and due to our small size, nearly everyone a small speaking part of some extent. We exploit talent when it comes to us.
These priorities get exercised with some variation over the years as the directing staff varies.
We depend heavily upon parent participation for the support functions, and foster the community which gathers naturally around theater.
A youth production of an adult play is a charmed place where the child world and the adult world meet. The young try on the adult world, and it is fascinating to watch.
We put importance on sets, costumes, lighting and chorerography. These are integral to renditions of Broadway-style plays. They are more than "polish" - without them the play loses coherence and communicates less strongly.
The program is descended from a Berkeley Unified School District program of former long standing, is populated mostly by BUSD students, and respects the communty values to which BUSD is loyal.
We're a common youth musical theater – a troupe of Berkeley School students which is not bound to one school..
---
Now for The On-line Shrine: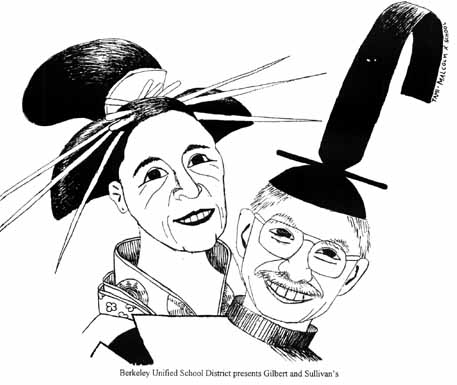 The "Mikado" and "Katisha"

of high-aspiration youth musical theater in Berkeley elementary Schools -
Arden Clute and Catherine Lynch, Co-founders, Gilbert and Sullivan Troupe (1967-1999),
Berkeley Unified School District
Musical Theater in our schools!